ELIE SAAB CUIR ABSOLU SUBLIMATEUR DE PARFUM

• OFFICIAL BRAND STATEMENT •
As a tribute to the beauty of the leather that sculpts ELIE SAAB's Haute-Couture creations, La Collection Des Cuirs reveals a set of exceptional fragrances.
Used in the traditional perfuming technique of "layering", these fragrances can be worn on their own or over the Perfume Enhancer, CUIR ABSOLU, to create one's own olfactory signature.Worn on its own Cuir Absolu, perfume enhancer, imparts the most supreme leather accord.
Applied before one of the fragrances from La Collection Des Cuirs, it reinforces the alchemy between the leather notes to create a new and unique fragrance with a powerful and intense trail. 


8-10 hours on skin 
24+ hours on clothes
Projection is strong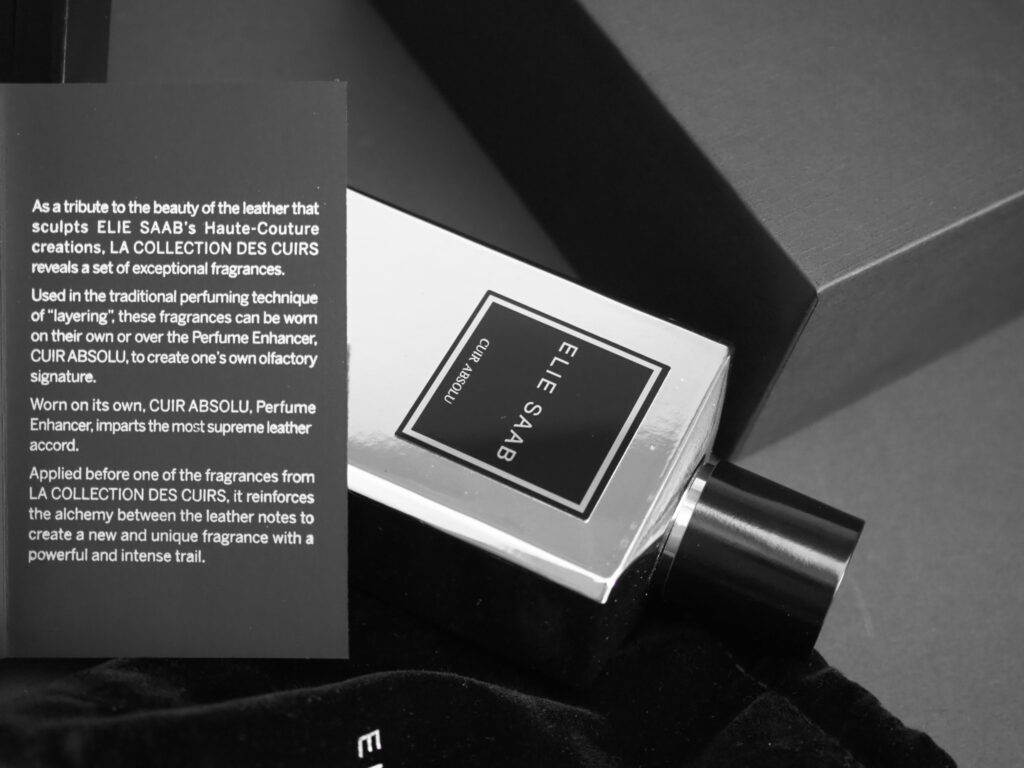 Nothing beats a good leather. Wether it is a bag, favorite pair of gloves, biker jacket or a perfume. ELIE SAAB La Collection Des Cuirs Cuir Absolu sublimateur de parfum is on of the most outstanding scents out there when it comes to pure raw dark leather. It is composed extremely well and can be used as an enhancer to your other fragrances for that extra leathery "oomph". Being part of collection of 4 it comes in golden bottle because it was initially made for layering purposes.
I love wearing Cuir Absolu by itself because of the richt dark weather vibe it has. To me, quality wise it is in the same boat with Chanel's Cuir de Russie and Bottega Veneta leathers. It is smouldering, dark rich scent the accentuates the raw material loved by many. I adore the smell of leather jacket when it is just unpacked out of the box.
Oily, tart, slightly animalic, dry and addictive. This is how I would describe this release. I've owned a bottle for 5 years and to me it is still one of the most mastefully made leathers because this scent is so alive. I enjoy layering it with the fragrances that miss depth and due to it's universal classic make it fits many, improving the overall composition. It distantly reminds me of TOM FORD's Ombre leather somehow, except I find TF fragrances from back in time bit too unstable. It's one of those lines that doesn't work well with my body chemistry.
Anyhow, you don't have to layer Cuir Absolu strictly with ELIE SAAB's creations only. I mix this one together with Burberry Her Blossom, Marc Jacobs Decadence, Tonka imperial  by GUERLAIN and the end results are always fabulous. All I mean to say is use your imagination and go for it. Experiment with fragrances and create something unique to you. 
ELIE SAAB La Collection Des Cuirs Cuir Absolu was a limited edition release and is momentarily not available for purchase. However the permanent collection of La Collection des Essences consisting of 9 exclusive fragrances created by ELIE SAAB is still available on official site. All of these offerings are released in 100 ml format.