Hi guys. I'm still busy tinkering on the website, making it mobile friendly and so on. I will be adding some full reviews for you about the fragrances in my collection very soon. If you are not familiar with my Intsagram, follow me there through —> @perfumeaholic_official
What is fragrance subscription service?

Fragrance subscription is a form of service where you choose a fragrance to be shipped to you in travel format. Simply put it is a huge size sample made specially upon your request. In that way you get to discover new scents, purchase something you normally can't get hold of in your local shops or blind buy scents that interest you without breaking your bank. Overall this has been a quite cool concept and it actually exists for some time now.
Many of you are probably familiar with them if you heard about ScentBird, Scent Box, Olfactif subscriptions and many more depending on the area of your residence. I did become a member of Parfumado (a very popular subscription here in NL which I love as well BTW) just last  year, even though it has been existing for way longer than that. But today's story is about YUNIQU / now known as PAFORY.
I adore the fact that you get to discover more than one scent a month. I'm very keen on discovering new niche fragrances, and a lot of them. Since niche scents are not easy to come by if you are living in a smaller city, discovery services become your best friend. You don't have to drag your bum into the car to drive million miles just to sample that one exclusive scent. No more blind buys and silent regrets afterwards trying to sell the bottle further because it was not what you hoped it to be.
It is very simple, once you have an account at any of the fragrance services. You will be able to see the entire range of the scents that are being offered. Choices often vary depending on availability and wether products sell out fast, but the rule of the thumb is that several fragrance brands are represented. So you click, pay and receive your chosen scent in mail in couple of days. Simple right?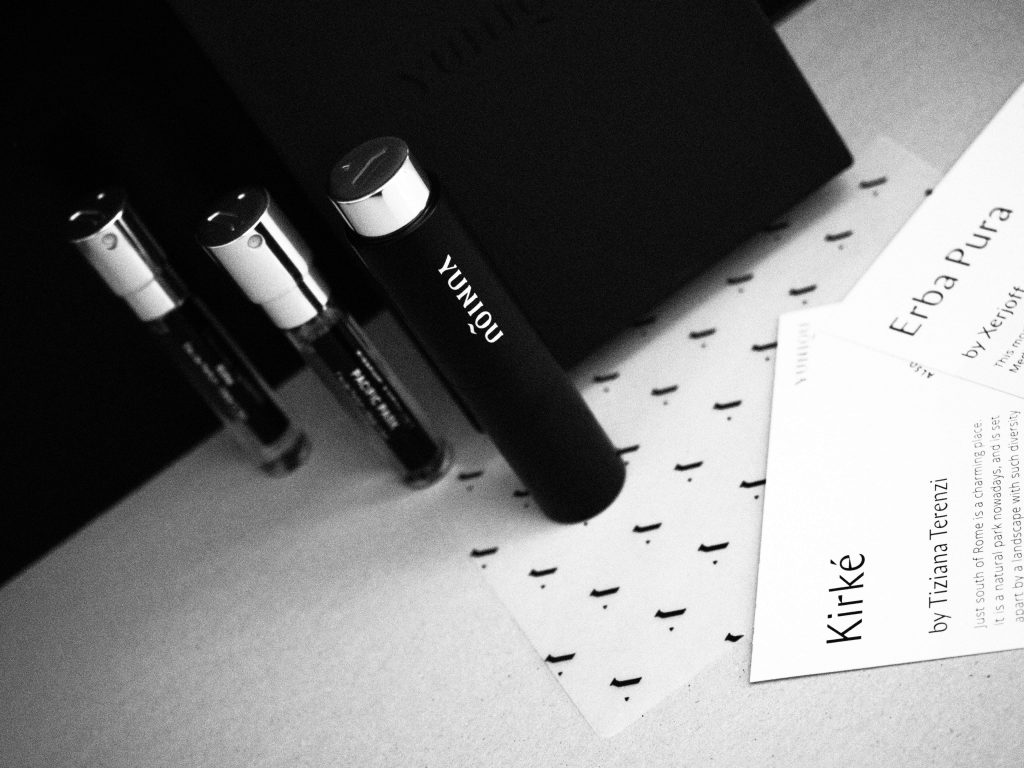 What are my final thoughts?

It used to be simple. Not anymore, there are a lot of changes that I have observed this company to go through and not all of them were positive.
It used to be free worldwide shipping, now it is not free nor worldwide
Average customer service, they do not respond to their  inquiries if the requesting party is not  from the area they ship to. Filling of the bottles is less than indicated 8 ml, that was the reason why I stopped with subscription too. Every time the amount got less in the vial. I'll stick to my Parfumado.
Prices of decants have gone up since the initial launch of Yuniqu, now called Parfory, there is also strange way to price the decants with extra fees on top of the standard fees. YEt again I prefer Parfumo for not serving me hidden fees.
Biggest variety of niche fragrances amongst all subscription services I've ordered from has become 2nd biggest. Competition doesn't stand still and I am not seeing a lot of time investment in expanding the range as the focus currently is on improving the visuals and new branding. 
There were discounts for purchasing full size fragrance bottles before, now the point accumulation program has changed and with stepping over from one site name to the other I have lost a lot both discount codes from my referrals and my purchases points. Really sad it was more than 80 euros worth that just disappeared in thin air.
I have stopped being a member for a while now and the way things look now I am not coming back any time soon.My final thought is that you chose what service to use. Any will have good and ugly things going on, you as a customer should be aware of both sides of the coin.