Hi guys. I'm still busy tinkering on the website, making it mobile friendly and so on. I will be adding some full reviews for you about the fragrances in my collection very soon. If you are not familiar with my Intsagram, follow me there through —> @perfumeaholic_official
I wanted to make one of my forst posts about thing I love in fragrance world, discovering new perfumes to be exact. I am busy making my ultimate top 10 posts and will share these with jou hopefully in the beginning of July. For now let's talk fragrance subscriptions, what they are and what they do, also the best ones that exist in my humble opinion.
What is fragrance subscription service?

Fragrance subscription is a form of service where you choose a fragrance to be shipped to you in travel format. Simply put it is a huge size sample made specially upon your request. In that way you get to discover new scents, purchase something you normally can't get hold of in your local shops or blind buy scents that interest you without breaking your bank. Overall this has been a quite cool concept and it actually exists for some time now.
Many of you are probably familiar with them if you heard about ScentBird, Scent Box, Olfactif subscriptions and many more depending on the area of your residence. I did become a member of Parfumado (a very popular subscription here in NL which I love as well BTW) just last  year, even though it has been existing for way longer than that. But today's story is about my absolute favorite which is YUNIQU.
I adore the fact that you get to discover more than one scent a month. I'm very keen on discovering new niche fragrances, and a lot of them. Since niche scents are not easy to come by if you are living in a smaller city, discovery services become your best friend. You don't have to drag your bum into the car to drive million miles just to sample that one exclusive scent. No more blind buys and silent regrets afterwards trying to sell the bottle further because it was not what you hoped it to be.
It is very simple, once you have an account at any of the fragrance services. You will be able to see the entire range of the scents that are being offered. Choices often vary depending on availability and wether products sell out fast, but the rule of the thumb is that several fragrance brands are represented. Both male and female fragrance options are available and yes niche subscription services offer a lot of unisex fragrances fitting both genders. So you click, pay and receive your chosen scent in mail in couple of days. Simple and wallet efficient.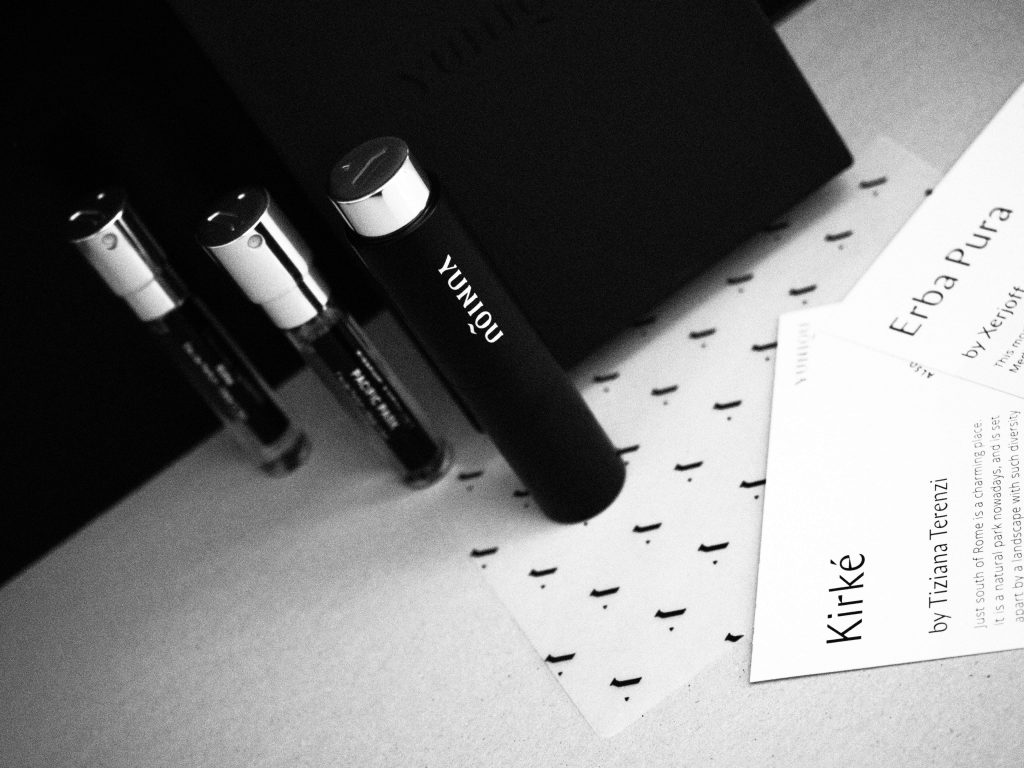 What makes Uniqu so special?

Free worldwide shipping
Amazing customer service
Great pricing
Biggest variety of niche fragrances amongst all subscription services I've ordered from
Free travel atomiser case
Discounts for purchasing full size fragrance bottles
What's there not to love, right? I chose for 3-scent subscription which is called Classic Three that allows you to sample three niche fragrances for 45 euros. What you get is 3 travel 8ml glass vials of fragrances you choose each month. First time they come with a sturdy atomizer meant for carrying your chosen fragrances anywhere you go. Pretty damn cool considering they offer such brands as Xerjoff, Parfums de Marly, Creed, Simone Andreoli, Blend Oud, Initio Parfums Prives just to name a few.
Situated in Germany they ship within the Europe in approximately 2 weeks time depending wether there are mail delays such as now with COVID-19. Can't say anything about the US/Canada shipping times solely because I don't know anyone who is a member. If you are a member, please, drop the shipping time for your country in a comment section below the post.
Anyhow, if you're a sucker for great fragrances and want to test few scents out without breaking a bank on full bottles, YUNIQU discovery service is definitely something for you! As a little thank you for reading you can use the code REFK85RGHP82D for €10 discount off your first purchase and save some more on the fragrances you want to discover or already love! Valid worldwide.